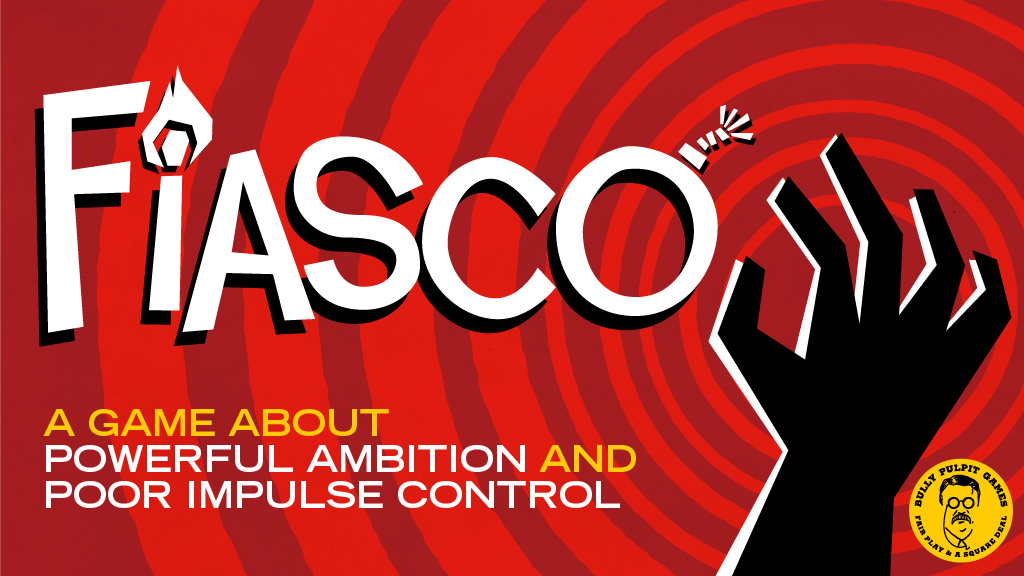 Fiasco
Fiasco is an award-winning story-telling game inspired by cinematic tales of small-time capers gone disastrously wrong.
You'll tell a story about ordinary people with powerful ambition and poor impulse control!
Lives and reputations will be lost, painful wisdom will be gained, and if you are really lucky, you just might end up back where you started.
You probably won't be lucky.
You'll Need:
3-5 Players
14+ years old
About 2 hours
You'll Get:
Rulebook PDF
Playmat PDF
Let's Not cards PDF
Engine cards & tuckbox PDF
3 x playsets & tuckboxes PDFs
The Decks

Fiasco comes with four 54-card decks:
The Engine
If you want to drive your Fiasco game like the stolen car it is, you'll need an engine, and this is it! Consists of 32 fine-tuned Outcomes (16 positive, 16 negative), 20 powerful Aftermaths, and 2 Let's Not cards.
Dragon Slayers
So yeah, we rode into this miserable little town, a bunch of outsiders ready to solve their problem. Solve a dragon. Well, we solved it, and here we are, ready to kick back and split up the loot and regale those bumpkins with tales of mummy rot and devilish traps and the dragon we whacked. Of course it's never that simple. Adventurers like us all have egos, and we all have a past.
Tales from Suburbia
It's a nice town full of nice people. Not much happens here, and that's how we like it. Or rather, lots of things happen here, things requiring antibiotics and things dusted with cocaine and occasionally, just occasionally, things spattered in blood. But we keep all that quiet, and we keep the sidewalks clean, and not much happens here, and that's how we like it.
Poppleton Mall
It's time to make a trip to Poppleton Mall for the best in shopping, entertainment, and dining! From Arapaho Leather Goods to T. Esquire, from the Poppleton 8 multiplex to our beautiful glass atrium, Poppleton Mall truly has something for everyone. Join us for the holidays, when Santa reigns over his throne room and the atrium rings with the sounds of merrymaking from the magical Winterland stage! Your children will always remember their visit to Poppleton Mall's Santaland.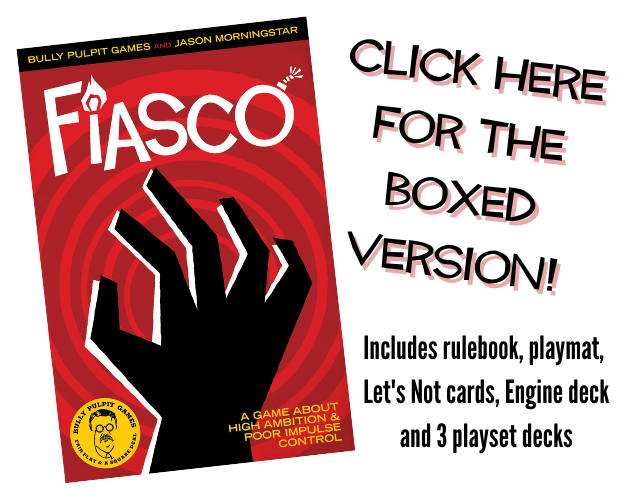 Praise
"Damn this Fiasco game is ingenious." – John Rogers, TV and film writer for Leverage and The Librarians
"Fiasco is unique among RPGs because it encourages us to actively reach for that moment we all dread in most games, that moment when something truly awful is going to happen, with possibly dire results for our characters." – Wil Wheaton, Actor and Writer
"I think, for me, there's a kind of non-Aristotelian catharsis in that active rehearsal of everything I fear and dread and also pine for; it's a chance to dance with Poe's Imp of the Perverse, to give in, to make the dangerous choice—it's the same thing release I get from the act of writing. But writing is a solitary discipline for the most part and Fiasco… Fiasco is so gloriously communal." – Kelly Sue DeConnick, Writer of Captain Marvel, Pretty Deadly, and Bitch Planet
"The joy of Fiasco comes when the line between game and story blurs and suddenly you're sitting around a table with the brilliant and wonderful souls you allow into your home and you all try to make the perfect Big Black Box. Impose logic, reason, design, over the chaotic horror of existence because in story-space, in a game-space, because here we CAN. We aren't just allowed but it's ENCOURAGED. Draw this map of hell, we tell ourselves. Later on we can find our way out." – Matt Fraction, Writer of Hawkeye and Sex Criminals
"Fiasco is roleplaying stripped down to sheer elegance, to virtually zero ramp-up time. The notion of playing ambitious crooks with poor impulse control — inspired by a host of movies like Fargo or Lock, Stock, and Two Smoking Barrels — is both inspiring and immensely replayable. But the real genius of Fiasco... is that now you can enjoy it in almost any setting you like." – the 2011 Diana Jones Award Committee
3 playsets not enough? We have Expansion Packs:
Purchase
In order to download this game you must purchase it at or above the minimum price of $12 USD. You will get access to the following files:
BPG100_Fiasco_Digital_PNP.zip
8 MB