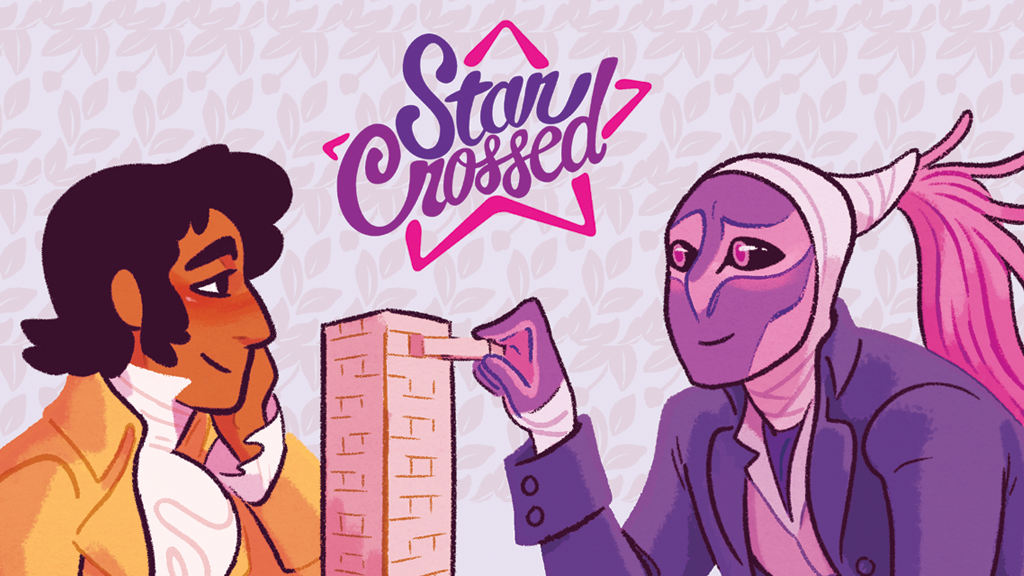 Star Crossed: The Two Player Game of Forbidden Love
From designer Alex Roberts, with gorgeous illustrations by Jess Fink!
It's the two-player game of forbidden love.
Two players craft characters who are powerfully attracted to each other, but have a compelling reason not to act on their feelings. Watch the attraction between them grow as you play out scenes, taking turns describing what your character says and does. Some of the things you'll want your character to do are going to increase that attraction—and when that happens, you are going to pull a brick out from an increasingly shaky tower and place it on the top.

If the tower falls, your characters act on their forbidden desires! You decide what happens; the rules will tell you what that means.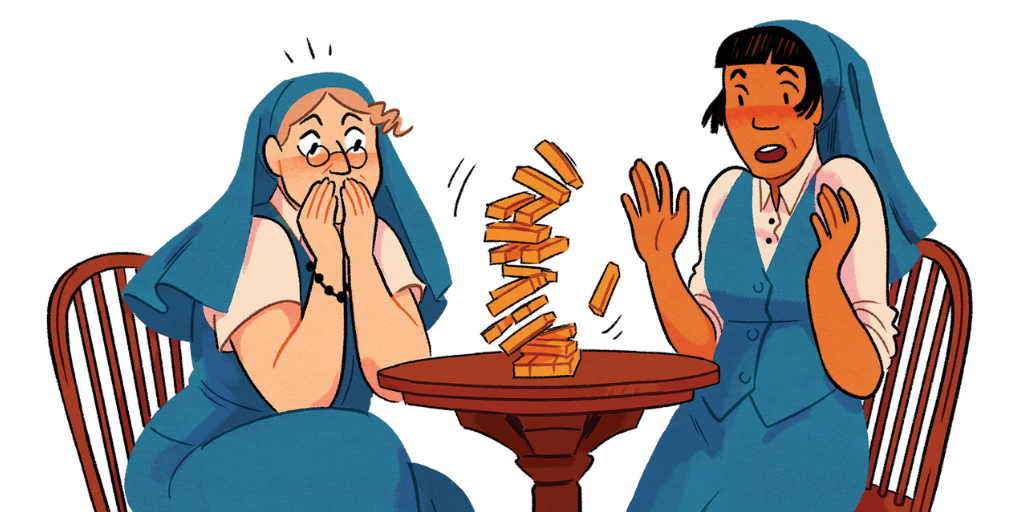 The game is simple, quick, and filled with delicious moments of excitement, tension, and occasional heartbreak.

Will you be best friends about to graduate and move to different cities? A Queen and her knight errant? Leaders of the Vampire and Werewolf clans? A lonely trucker and an alien brain parasite? The possibilities are endless.
This is the digital version of the game; it consists of three PDFs which contain the complete rules, the scene cards, and character sheets (which you'll need to print). You'll also need a couple pencils to play - and a tower of bricks, of course.
"The stories are sweet, sad, and sexy as hell. Playing feels like falling in love. ...it left a profound impression on me. It's one of those games that proves how beautiful roleplaying is as an art form." - James D'Amato, One Shot Podcast Network
"What I find genuinely surprising about the design—and what draws me to it—is not just how well the metaphor fits; but how the metaphor veers from that of Dread. Hiding in the gravity of that teetering tower is not the grisly finality of well-swung hammer or the existential threat of eternal void, but something far more terrifying: real human desire." - Epidiah Ravachol, creator of Dread
"The hottest game I've ever played." - Sara Williamson, creator of Shelter and 183 Days
Purchase
In order to download this game you must purchase it at or above the minimum price of $12 USD. You will get access to the following files:
BPG055_Star_Crossed_digital_edition.pdf
5 MB
BPG055_Star_Crossed_printnplaycards.pdf
136 kB
Star_Crossed_Space_Station_Fobolex_scenario_20190214.pdf
794 kB
Download demo