Desperation
Two games of survival horror, often without the survival.
Desperation is two small roleplaying games, built on the same dark tone and mechanics, that are truly pick-up-and-play experiences for you and your friends.

Both games are designed for 1-5 players in an hour or two.
Dead House is set during the great blizzard of 1888, and in it you will meet the people of the tiny town of Neola, Kansas, who find themselves unprepared in the teeth of the storm. As supplies and sanity dwindle in equal measure, who will live and who will be added to the dead house?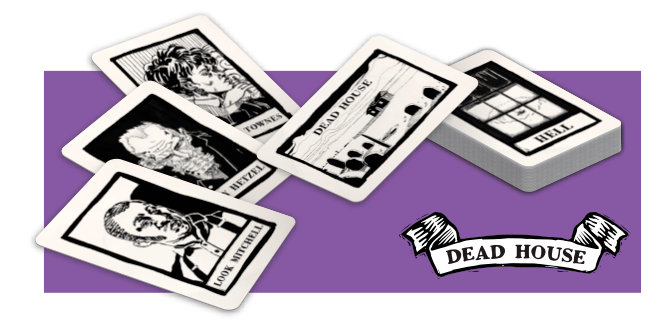 The Isabel is set aboard a three-masted cod schooner fishing in the Gulf of Alaska in 1888. Her passengers and crew have unpalatable secrets, and they are sailing into a storm the Isabel cannot weather. A doomed ship, raging seas, and a handful of leaking dories await them—and then the hard times begin.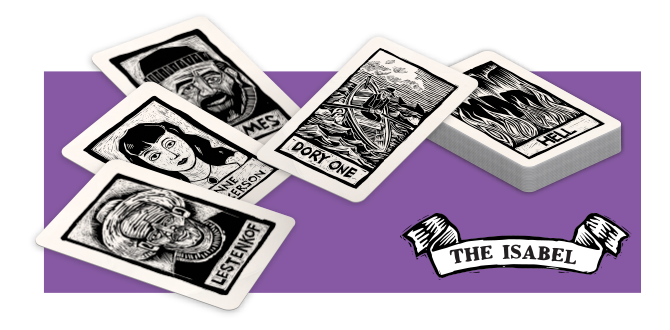 Gothic storytelling experiences steeped in actual history, Dead House and The Isabel are dark, lyrical games about people pushed far past their limits.
If you like card-based roleplaying games like For the Queen and The Quiet Year but have a dark and unmerciful heart, you'll like these Desperation games.

The Desperation engine is different because you don't decide what is said—you decide who says it. And in a small community, who says "I burned a house down with the family trapped inside" makes all the difference in the world.
The cards for each game include an entire claustrophobic world of characters that form a web of relationships you will then apply agonizing pressure to and, in most cases, destroy.
Each deck also includes the isolated locations where all the action will take place. The locations are, themselves, characters in the unfolding horror.
Finally, the bulk of the deck consists of prompts that follow the inexorable passage of time. Some will drench the experience in unforgettable color, and others will drench it in blood—or worse. And each time, you will have to decide who among the survivors is saying the words.
The two games included here—Dead House and The Isabel—have subtle connections between them, but each also stands alone. Since every playthrough will result in different decisions, replay value is high.


"The Desperation engine makes these games approachable for new people and different for experienced players. It's intense and immersive and we all agreed it could be the perfect way to introduce people to these types of games. We cannot wait to play again!" — Craig Shipman, Third Floor Wars
"Dead House is tragic and weird and somehow beautiful, too. With a few decks of cards, Morningstar has carefully placed each cobblestone on a bumpy road to hell. Like so much of Bully Pulpit's work, Dead House is enriched by the real histories it peers into. You may weep for the town of Neola, but you won't save them." — Kurt Refling
"A thoughtful, quiet game about hard people, hard truths, and hard choices. Experience the slow, inevitable breakdown of society during a brutal winter in the comfort of your own home!" — Casey Hardy, Talented Fool Cosplay, owner of Shadowmoor
"It was awesome. It was really cool. It was really nice to just be sitting around and telling a story and bouncing ideas off each other and who's in love with who and who hates whom and who killed whoever might be dead. It was very dire and we all felt the stakes of it. We all felt that loss when a character died. A really good immersive experience." — Jillian Kiefer, narrative Designer of ScreamCap
"Dead House harvests dread from the smallest seeds: one page of rules and a deck of cards suffused with perfectly specific prairie gothic details combine to provoke a panoply of dark tales from players. My students couldn't stop talking about how much they were into this game." — Rick Dakan, writer, game designer, and professor of Creative Writing, Ringling College of Art and Design
"Dead House is daring, emotional, and almost desperately bleak—a Bully Pulpit jam. Hotter than blood and colder than snow, Dead House demonstrates how a master of the craft like Jason Morningstar collaborates with players across space and time through the power of design. In the inevitability of an historically grueling winter, it mashes an unstoppable narrative force against the dramatic power of each player's honesty and empathy. As winter turns to hell, players discover their own limits and face wrenching decisions while the characters' torrid, fragile lives crack and break like ice. Dead House is a nail-biting chronicle of fear, judgment, and desperate hope, married to a game so raw and sharp that it cuts deep. I doubt any player comes out the other side of this game unchanged." — Will Hindmarch, writer and game designer

Want to stream or write about Desperation? Find the press kit here or send us an email at info@bullypulpitgames.com!

Purchase
In order to download this game you must purchase it at or above the minimum price of $12 USD. You will get access to the following files:
BPG200_Desperation_PNP_220801.zip
18 MB